Salt Lake City Emergency Management is holding their first 2017 Community Preparedness Workshop this Saturday, February 4. They will address the basics of disaster preparedness.
Many people have previously attended some of the SLC workshops. Everyone is welcome, but at this time, Emergency Management is reaching out especially to people who have not been involved in the workshops by starting with some elemental aspects of disaster preparedness. Maralin Hoff, the Earthquake Lady, will be a featured speaker.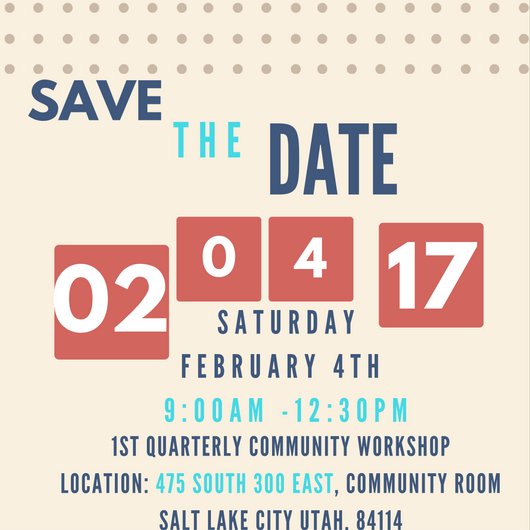 Date: February 4th -- This Saturday!
Time : 9:00-12:30
Location: PSB – Community Room 475 South 300 East
Session A) Risks that SLC can encounter, Speaker Maralin Hoff
Session B) Three components of a resilient Community
Session C) Resources found in our city to help you achieve the 3 components.
Dear Salt Lake City Community Members,
The 1st Quarter 2017 Free Community Preparedness Workshop has been scheduled.
(NO COST to attend)
Please join us at the workshop on Saturday, February 4th, 2017. Bagels, coffee, tea and orange juice will be served at 9:00 am. Welcome and opening address will begin at 9:30.
This workshop will be divided into three sessions. The first session will cover the dangers and risk Salt Lake City can encounter. The second session will present the importance of following the 3 steps to be ready and prepared. The last one will touch basis on the plethora of resources available for residents to be prepared. This workshops are designed to build a foundation to become a resilient community due to the structural impact of the 7.0 seismic event we will experience.
We will furthermore, address considerations Salt Lake residents should make and steps that can be taken to reduce the impact of any disaster we could experience.